Search results for: "Religion"
WELCOMED BY PDT MACRON AT AIRBASE VELIZY
Responsible Author: Jedi Foster P/O Rahma Sophia Rachdi | Paris, Washington DC, 10/14/2020, 01:55 Time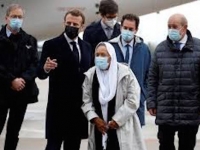 USPA NEWS -
Sophie Petronin, 75 years old woman, who is a French Humanitarian activist, has been release after four years of kidnapping in Mali, returns to France, as the French President Macron and French Minister fo Foreign Affairs, Jean Yves Le Drian, welcomed her at Velizy Villacoublay military Airbase, around Paris, at midday, a day after she was released by her kidnappers, The French aid worker who was kidnapped by extremists in Mali seemed to be relieved and hugged stronger the members of her family, especially Sebastien her son who fought for years calling up for the release fo hi mum. Sophie Petronin, was wearing a veil, and indicated to the media that she converted to Islam and had a new name, « Mariam » (The Muslim name of Virgin Mary). As she was speaking to reporters, Sophie Petronin thanked the Malian and French governments for their help. "For Mali, I will pray and implore the blessing and the mercy of Allah, because I am a Muslim," she said. "You say Sophie, but it's Mariam you have before you," she added, emphasizing her conversion to Islam
TO DISTNIGUISH POLITICAL ISLAM & MUSLIMS
Responsible Author: Jedi Foster P/O Rahma Sophia Rachdi | Paris, Washington DC, 10/04/2020, 13:32 Time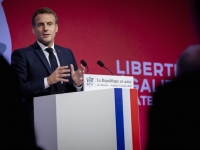 USPA NEWS -
President Macron announced a future law on separatism on the occasion of the proclamation of the 150 years of the 3rd Republic, in the Pantheon on September 4. He then used the following terms: "Islamist separatism", "separatism", "the separatist adventure" ... without defining this new term "separatism" For several months, this notion of Separtists has been used several times in several speeches by Head of State Macron, linking the indivisible republican values in opposition to this separatism necessary for national unity. "The indivisible Republic does not admit any separatist adventure",
The text of this law on "the fight against separatism" will be presented to the Council of Ministers on December 9, then transmitted in January to the National Assembly for a parliamentary debate during the first half of 2021.
| | |
| --- | --- |
| | Daren Frankish |
| | RAHMA-SOPHIA RACHDI |
| | Ruby BIRD |
| | Yasmina BEDDOU |
| | Aurangzeb Akbar |