Local
Local Neighborhood Increases Securtiy
Crime on the Increase

| | |
| --- | --- |
| Historic Belmont District Preservation Society | Source: www.facebook.com/HistoricBelmont |
USPA NEWS - Local residents of the Historic Belmont District in Shelbyville, Tennessee are working with local police to increase patrols in an attempt to cut the ever increasing crime rate in their historic neighborhood located just three blocks off the Public Square.
Local Belmont Avenue Historic District residents request the aid of the Shelbyville Police Department in an effort to quash the ever increasing crime in their neighborhood.

A Co-Chairperson of the Historic Belmont District Preservation Society commented "We have been in contact with officers and officials of the SPD who have been more than helpful to the residents of the Historic Belmont District. They have added the neighborhood to a "Special Watch List" which we were told will increase patrols in the neighborhood".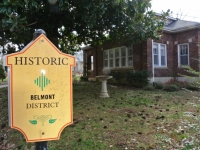 The neighborhood has had numerous recent reports of homes being broken into (Two in broad daylight in recent months), as well as trespassing and vandalism. "We have invested too much in our homes and our neighborhood to let it fall into a high crime area", another Belmont resident stated. Belmont Avenue has been the recent victim of an uptick in crime, many feel that this is due to an ever growing failure in management of an adjacent apartment community on a nearby street. Several residents are organizing to push for "Public Nuisance" charges to be brought against this still unnamed community's management and owners. We will continue to follow this developing story as it unfolds.
Keywords: Crime
Liability for this article lies with the author, who also holds the copyright. Editorial content from USPA may be quoted on other websites as long as the quote comprises no more than 5% of the entire text, is marked as such and the source is named (via hyperlink).
| | |
| --- | --- |
| | Daren Frankish |
| | RAHMA-SOPHIA RACHDI |
| | Ruby BIRD |
| | Yasmina BEDDOU |
| | Aurangzeb Akbar |