| | |
| --- | --- |
| | Source: © 2021Mercedes GP |
Silverstone
Responsible Author: Daren Frankish - Mercedes GP | Silverstone, 07/18/2021, 22:43 Time
USPA NEWS -
Lewis claims a hard-fought victory for the Mercedes-AMG Petronas F1 Team at the 2021 British Grand Prix, with Valtteri securing an impressive podium in P3
Lewis took his eighth British Grand Prix win with a courageous drive in front of a full-capacity crowd at Silverstone.
Lewis and VER collided on the opening lap when fighting for the lead into Copse Corner, with VER hitting the barriers and Lewis suffering damage to his wheel rim.
The race was red-flagged as a result and Lewis received a 10 second penalty from the stewards when the race restarted 20 minutes later.
Valtteri lost a position at the start of the race but completed an undercut on NOR on lap 23 after the McLaren driver suffered a slow pit-stop, and the team reacted with a call to box.
Valtteri then drove faultlessly on a longer-than-intended stint on the Hard tyre, reaching P2 before being asked to let a surging Lewis past to fight with LEC up ahead.
Lewis completed a fine overtake on LEC up the inside of Copse with two laps to go, in a repeat of his lap one move on VER, and took the chequered flag in P1.
Max Verstappen (185 points) leads the Drivers' Championship by 8 points from Lewis (177) and Lando (113), wi
Red Bull Ring
Responsible Author: Daren Frankish - Mercedes GP | Spielberg, 07/04/2021, 22:48 Time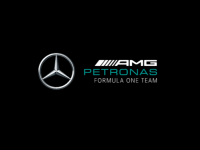 USPA NEWS -
P2 and P4 for the Mercedes-AMG Petronas F1 Team at the 2021 Austrian Grand Prix
Valtteri completed a solid drive to take second place and maximise the points on offer for the second consecutive weekend.
Lewis suffered damage at the Turn 10 kerbs and nursed the car home well for 30 laps lacking significant downforce.
At the start of the race, Lewis and Valtteri had moved up to P3 and P4 respectively after a safety car restart on lap 4 saw PER drop 10 places when jostling with NOR for P2.
NOR defended P2 well for 15 laps before Lewis could make the overtake. Valtteri then passed NOR at the pit stops and the team occupied P2 and P3 until Lewis suffered the effects of kerb damage at Turn 10, losing downforce. He was passed by Valtteri and NOR on lap 53.
Lewis pitted soon after for fresh tyres and a wing adjustment to try and re-balance the car for the lost downforce but was forced to settle for P4.
Max Verstappen (182 points) leads the Drivers' Championship by 32 points from Lewis (150) and Sergio Perez in P3 (104), with Valtteri (92) in P5.
Red Bull (286 points) lead the Mercedes-AMG Petronas F1 Team (242 points) by 44 points in the Constructors' Championship.
| | |
| --- | --- |
| | Daren Frankish |
| | RAHMA-SOPHIA RACHDI |
| | Ruby BIRD |
| | Yasmina BEDDOU |
| | Aurangzeb Akbar |